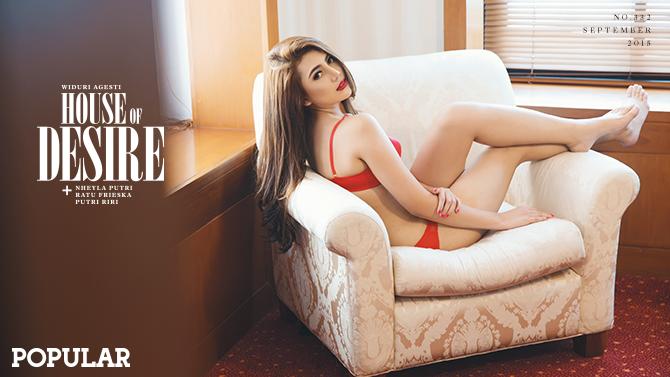 Ini rumah impian untuk Anda, POPULAR People. Silakan masuk lewat pintu depan, jangan ragu sedikit pun, karena Anda akan menyesal jika melewatkan apa yang ada di dalam. Saya hanya memberi 'bisikan' sedikit saja, sisanya Anda yang tanggung sendiri.

Begini, di ruang tamu rumah ini sudah menunggu Widuri Agesti(On The Cover). Percayalah, dia sangat memukau. Jika Anda melangkah lebih dalam ke ruang dapur, Anda akan menemui Nheyla Putri (Rising Star). Menurut saja jika ia mengajak masak bareng. Dari balik jendela, mungkin Anda akan melihat ke taman belakang. Di sana ada Putri Riri (Miss POPULAR batch 3 Winner). Tampaknya ia bakal membuat Anda senang berkebun. Dan jika Anda memutuskan diri masuk ke dalam kamar, jangan salahkan saya jika kemungkinan besar Anda akan terperangkap oleh Ratu Frieska (In My Room). Konon, siapapun yang telah masuk kamarnya jarang terlihat keluar lagi.
Selama di dalam rumah, Anda juga disuguhi berbagai bahan bacaan yang bakal membuat Anda merasa lebih hidup dan bergairah. Mulai dari Feature: Budapest, Rahasia Dapur Cemerlangnya Bisnis Porno Global, hingga Main Report:The 'Real' House of Desire. Lalu ada obrolan seru dan fun bersama Desta (Close Up) dan Donny Damara (Interview). Kemudian ada 'kalender' versi POPULAR agar 30 Hari Anda Terus Bergairah (Sex Clinic). Dan tentunya ada liputan investigasi Hot Report berjudul Lust After Shop yang membuat Anda betah berlama-lama di rumah ini.
Pesan saya, sebelum masuk rumah, ingatlah apa yang dikatakan Pablo Picasso: "Everything you can imagine is real."
Selamat datang, selamat bersenang-senang..
Jabat erat,
Faisal Rahim
Untuk online pre order https://popular-world.com/control/EstoreDetail?productId=10190 Dapatkan juga versi e-magazine di sini untuk Android, sedangkan untuk iPhone/iPad bisa disini atau melalui berbagai aplikasi Newstands lainnya seperti SCOOP, Wayang Force, Indobooks dan Scanie sekarang juga!
(Visited 179 times, 1 visits today)