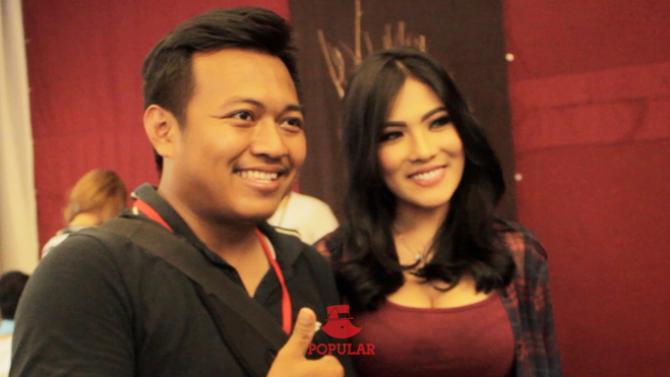 Masih saja tak terlupakan momen-momen kebersamaan dengan POPULAR Angels di POPULAR Photo Competition 'The Sweetest Escape'. Mengingat kembali keseruan dan keakraban bersama para model-model seksi. Duh, rasanya hmmm …
Apalagi mengingat suguhan pose aduhai dari para Foxy Ladies, yakin gak tergoda lagi untuk ikut di POPULAR Photo Competition? Hehehe! Jika kemarin sudah melihat keseruan selama kompetisi, kali ini akan dibongkar momen-momen ketangkap basah para fotografer yang lagi mesra bareng POPULAR Angels !
Penasaran? Lihat deretan foto di bawah ini.
#1
Duh kalau pemandangannya 'mesra' kayak gini sih, serasa dunia cuma milik abang sama Neng Chaca. Cieee!
#2
Jangan takut tercebur Nisa, banyak pria yang rela basah dan sok mesra demi kamu. Hahaha!
Intip nih sederet keseruan PhoCom The Sweetest Escape! Popular Angels asik dan basah maksimal!

#3
Hayo, foto yang bener jangan sampai gagal fokus sama lirikan mesra aku!
#4
"Mbak, abis ini selfie mesra nempel pipi mau ga?" Ups!
#5
Duh, ini sih ga mesra tapi romantis banget! Diam-diam jadi pemuja rahasia para Angels. Wah …
Gimana mesranya seru gak, POPle? Kalau kurang mesra, coba lagi di Photo Competition putaran kedua. Jangan nyerah!
Photo: Dokumentasi POPULAR
POPULAR Photo Competition 'The Sweetest Escape' sponsored by
Panther, The Bellezza Suites, Lasona, Bambu SPA, Lois Jeans, MigMe, Fave Hotel, POPULAR Mansion.
Media partner :
Liputan6.com, Fotografer.net, Komunitas Fotografi Indonesia, Oz Radio, www.popular-world.com, POPULAR TV
(Visited 612 times, 1 visits today)