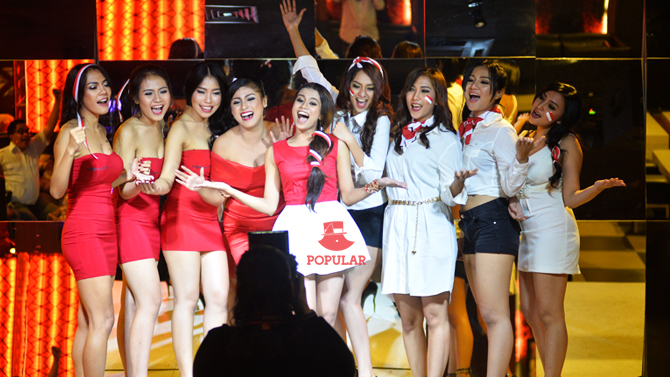 Hadiah spesial dari Miss POPULAR buat Dirgahayu Indonesia ke-71

Sudah 71 tahun Negara Indonesia merdeka. Memulai dari titik nol di tahun 1945 paska lepas dari penjajah, Indonesia dengan tekat semangat bersama seluruh rakyat bergerak maju untuk membuat Indonesia Jaya!
Semua semangat yang berlandaskan perjuangan serta pengorbanan para pahlawan di masa lalu menjadi pegangan. Sebagai anak bangsa patutlah kita menghargai semuanya. Nah, untuk menyambut hari jadi Indonesia, kedelapan finalis Miss POPULAR Batch 5 'Voice of Angels' pun telah mempersiapkan hadiah buat Dirgahayu Indonesia ke-71.
Saat ditemui di POPULAR Mansion Kitchen & Bar, Barbie, Kanaya, Farren, Rury, Rya, Kis, Liana dan Bella tengah sibuk dengan photo session untuk persiapan voting. Selain itu mereka juga sedang melakukan pembuatan video menyanyikan lagu Kebyar-Kebyar untuk menyambut Dirgahayu Indonesia ke 71.
Lihat Juga Nih Semarak Merah-Putih Pemotretan Miss POPULAR 'Voice of Angels' Bikin Panas
Nah, mereka ini kan calon penyanyi, maka di sela break kemarin POPULAR ingin dengar nih suara merdu mereka. Langsung saja kita samperin kedelapan finalis dan meminta untuk membawakan potongan lagu semangat kemerdekaan  sebagai hadiah Dirgahayu Indonesia. Dengerin yuk POPle!
Miss Bella
Miss Kanaya
Miss Barbie
Miss Rury
Miss Kis
Miss Liana
Miss Farren
Miss Rya
Atau mau lihat Miss POPULAR "Voice of Angels" nyanyikan lagu "Kebyar-Kebyar" untuk Dirgahayu Indonesia ke-71, simak di bawah ini!
Dirgahayu Indonesia ke 71! MERDEKA!
Photo by Widiartono
(Visited 114 times, 1 visits today)